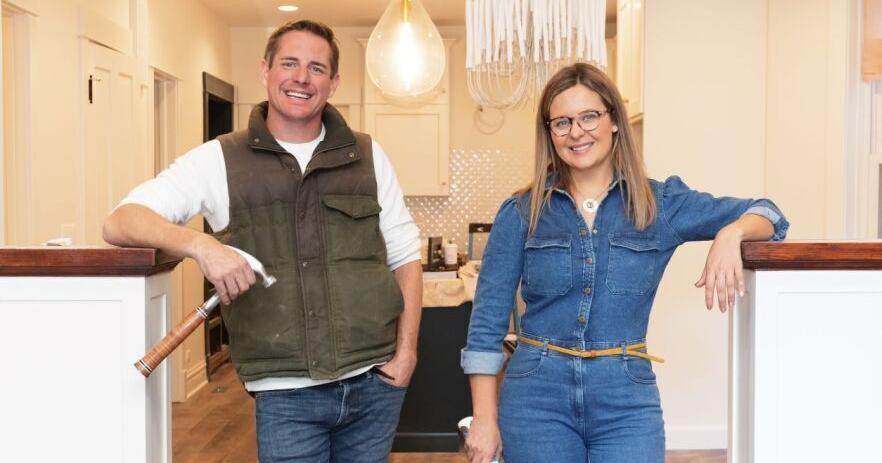 Champaign-Urbana rarely gets to see one of its own hosting a TV series. But it's happening again starting Saturday night.
Centennial and University of Illinois graduate Joe Piercy, a one-time News-Gazette Carrier of the Month, stars with wife Meg on HGTV's "Renovation Goldmine." The show debuts at 7 p.m. with hourlong episodes each week through June 18. After that, it will be streaming on Discovery Plus.
"It's a really big honor," Joe said. "It's kind of surreal."
Joe and Meg are having a premiere party at their Chicago business, MegMade. Family and friends will be there.
Before telling you how the series came to be, it's helpful to go back to the beginning of Joe and Meg's relationship.
Meg is a University of Kansas graduate, with a degree in journalism. After college, she moved to Chicago with friends.
She met Joe at a church in Chicago, one known for being filled with young, single people. After Sunday services, members would go out to lunch. On the day they got together, they were the only two at lunch.
"We didn't really even know each other at that point," Meg said. "We had just seen each other, and I thought he was cute."
They went to a sushi place on Wells Street for what was supposed to be a 15-minute meal. They were there for 21/2 hours.
"I remember calling my mom on the way home saying, 'I think I just met the guy I'm going to marry,'" Meg said.
Six weeks later, they were engaged. They got married in October 2009.
Origin story
Early in their marriage, Joe and Meg started painting furniture together. Every night.
They made a good team then and now.
"We still spend 22 hours a day together," Joe said.
"A lot of people, when they meet us, they're like, 'I could never work with my spouse.'"
When one of them travels for a day, they are still on the phone for hours.
"We just realized we're better together," Meg said. "There's more chances for arguing. We bicker probably more than most, but it's because we're together about 200 percent more than most couple.
"We do have fun."
You will see their close connection on "Renovation Goldmine." They are a team, encouraging each other on various projects.
In 2013, they started their company, MegMade, in Chicago.
"We didn't anticipate ever doing anything with furniture," Joe said.
Joe guesstimates they have done 10,000 pieces.
There are big happenings for the company. MegMade is relaunching its line of paints and also coming out with a new furniture line.
They are also creating tutorials for YouTube, helping the public with DIY projects.
Good timing
How did Joe and Meg land the series? It was a five-year process for the now 38-year-olds.
They were on Instagram, sharing do-it-yourself tips. Their personalities shined.
"When you do that on Instrgram, that's how a lot of production companies find people," Meg said.
A few production companies reached out to Joe and Meg, gauging their interest in hosting a series.
Their show is produced by FRANK., a New York-based company.
HGTV receives endless pitches for shows. Joe and Meg made the cut.
"Honestly, it's like winning the lottery," Joe said. "When it comes to getting the lottery, it's a ton of hard work."
"I think we have a unique story," Meg said. "We're not just refinishing furniture. It's a bigger story, because Joe does construction, and I do interior design.
"We're hoping it does really well and it tracks really well with the viewers."
Some prominent shows on HGTV include expensive projects. "Renovation Goldmine" is more accessible.
"We highlight the fact of what a can of paint can do," Joe said. "You can paint a dresser for a can of paint. We take the big budgets, and we try to save our clients money by focusing attention on the furniture so they don't have to buy new things."
The HGTV show will be good for MegMade. The business on Elston Avenue in Chicago's Logan Square is prominently featured.
Most of the refinishing work for the show was done at MegMade. The 16 home-renovation projects were done in Chicago or Chicagoland.
The couple have three full-time jobs: the show, the business and their family.
Joe and Meg have three sons: Wells just turned 10, Brooks is 7 and Finn is 3. They are not overly impressed seeing Mom and Dad on TV.
"If we were YouTubers, they'd think that was the coolest thing in the world," Joe said. "But we've shown them a few clips, and I don't think they were that excited."
Besides, the boys have a cousin who is a rookie in the NBA. Jeremiah Robinson-Earl is in his first season with the Oklahoma City Thunder.
"In a very weird way, our kids are used to seeing family on TV," Meg said.
The Piercy family spends plenty of time each summer in Champaign. Joe's parents, Jim and Jani, live at Maynard Lake. Joe's brother, JP, lives in Champaign, and John is in Chicago.
The family owns Mosser's Shoes in Champaign. Joe used to worked there.
Joe calls his dad his hero.
"He was a phenomenal father, and I'm really grateful for the support system I had growing up," Joe said. "I loved being a Centennial Charger, and I loved going to the University of Illinois. I wouldn't change a thing about the childhood I had in central Illinois. Central Illinois is a very special place."

https://www.news-gazette.com/news/asmussen-champaign-native-joe-piercy-and-wife-hosting-hgtv-show/article_afe70dc6-f99a-5266-adb0-ced24ee6c5d3.html