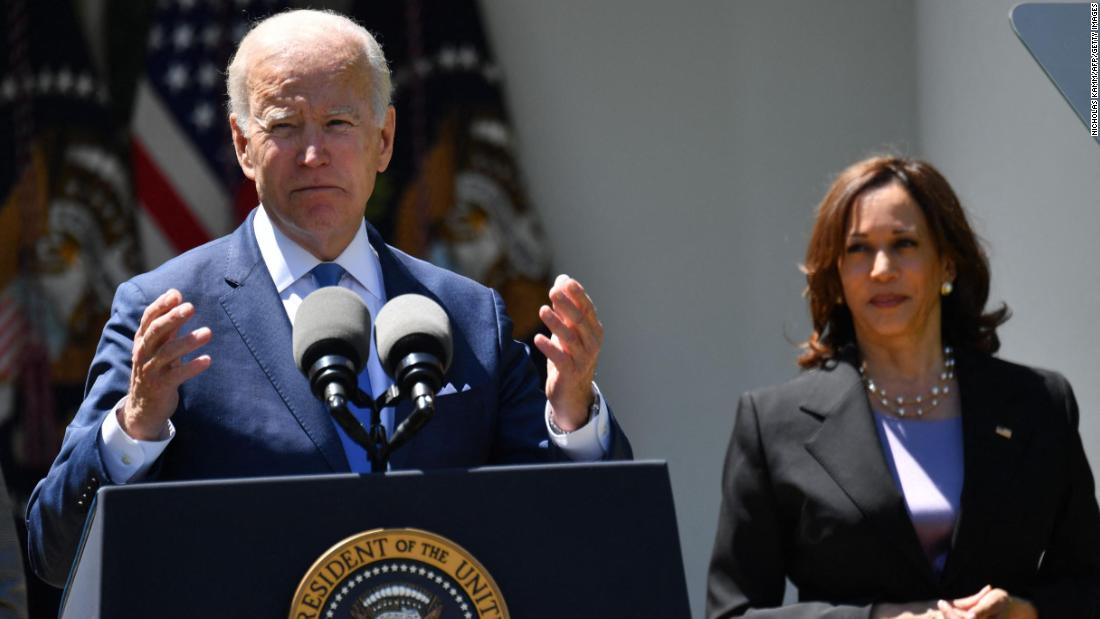 "Over the last few months, my administration has worked closely with internet providers. This is the case where big business stepped up — urging them to cut their prices and raise their speeds," Biden said at a White House Rose Garden event about the effort. "So now families who are eligible can select a plan from a participating provider and receive high speed internet at no cost in most cases."
The announcement follows provisions in the administration's
bipartisan infrastructure law
to subsidize wireless internet for low-income families under the Affordable Connectivity Program, which reduces internet service costs for eligible families by up to $30 a month through grant funding.
Biden thanked the participating providers — which include national names like AT&T, Comcast, Frontier, Spectrum and Verizon, as well as more local providers such as Jackson Energy Authority and Ideatek. The President said participating providers cover about 80% of the US population.
He also cast the initiative as part of his broader efforts to fight inflation.
"The bottom line is this — my top priority is fighting inflation and lowering prices for families on things they need," the President said to lawmakers and executives in the garden. "Today's announcement is gonna give millions of families … a little more breathing room to help them pay their bills. We worked with Democrats and Republicans, with businesses and nonprofits, to make this happen, and we're going to keep working to fight inflation and lower cost of all American families, and a lot of other things as well."
To qualify for the program's benefits, a member of a given household must meet certain low-income thresholds or participate in any one of the nation's assistance programs, including the Supplemental Nutrition Assistance Program (SNAP), Medicaid, the Free and Reduced-Price School Lunch Program or School Breakfast Program, Pell Grants, or others.
An estimated 11.5 million households have signed up to participate in the ACP to date.
The Biden administration has eyed different proposals to close the US' digital divide, which has persisted for years. And early on in his presidential tenure, Biden directed Vice President Kamala Harris to spearhead White House efforts on broadband access. The issue, however, has sparked sharp political fights over how much money to spend, where to spend it and what types of internet access Americans need to stay competitive in the 21st century.
At the Rose Garden event, Biden called internet access "a necessity" and Harris argued that "in the 21st century, access to the internet is essential for success."
"Every person in our nation, no matter how much they earn, should be able to afford high speed internet and a high speed internet plan," she said.
Participating companies were partnering with the administration voluntarily, the White House says.
Comcast Cable CEO and President David Watson said in a statement that the program represents, "a historic opportunity to close the digital divide by empowering more Americans to get online and connect to our increasingly digital world."
"We have been working on digital equity issues for over a decade and believe this new program offers even more support to achieve those goals. We are proud to work together with our government and community partners to close the digital divide," Watson wrote.
The 20 providers participating in Monday's commitment offer coverage for 80% of the country's population and 50% of the nation's rural population, according to the White House.
The administration is also launching a new website,
GetInternet.gov
, which will allow eligible households to connect to internet providers and sign up for the ACP, launch outreach programs through federal programs whose beneficiaries qualify for subsidized internet, and partner with cities and states to get the word out.
https://edition.cnn.com/2022/05/09/politics/white-house-partnership-internet-low-income-households/index.html