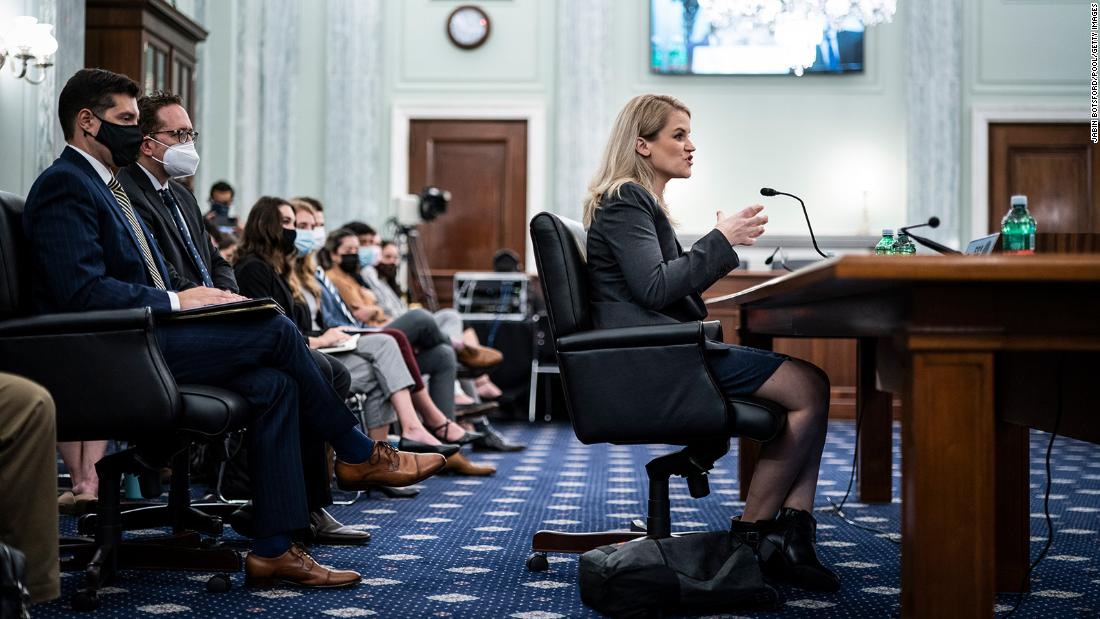 Frances Haugen, a 37-year-old former Facebook product manager who worked on civic integrity issues at the company, faced questions from a Commerce subcommittee about what Facebook-owned Instagram knew about its effects on young users, among other issues.
"I am here today because I believe that Facebook's products harm children, stoke division, and weaken our democracy," she said during her opening remarks. "The company's leadership knows how to make Facebook and Instagram safer but won't make the necessary changes because they have put their astronomical profits before people. Congressional action is needed. They won't solve this crisis without your help."
She emphasized that she came forward "at great personal risk" because she believes "we still have time to act. But we must act now."
"When we realized tobacco companies were hiding the harms it caused, the government took action," she said in her opening remarks. "When we figured out cars were safer with seat belts, the government took action. And today, the government is taking action against companies that hid evidence on opioids. I implore you to do the same here."
While Zuckerberg said he believed the testimony overall created a "false picture of the company," he also echoed the need for Congress to take action.
"We're committed to doing the best work we can, but at some level the right body to assess tradeoffs between social equities is our democratically elected Congress," he wrote.
Zuckerberg had previously stayed largely silent in public amid the Journal reports and Haugen's "60 Minutes" appearance. At Tuesday's hearing, multiple Senators criticized the CEO's apparent decision to go sailing during the firestorm for his company.
From outage to outrage
The testimony came after a tumultuous day for the company. Facebook, WhatsApp and Instagram went down for about six hours on Monday.
In her testimony, Haugen said, "Yesterday, we saw Facebook get taken off the internet. I don't know why it went down, but I know that for more than 5 hours Facebook wasn't used to deepen divides, destabilize democracies, and make young girls and women feel bad about their bodies."
She added: "It also means that millions of small businesses weren't able to reach potential customers and countless photos of new babies weren't joyously celebrated by family and friends around the world. I believe in the potential of Facebook. We can have social media we enjoy, that connects us, without tearing apart our democracy, putting our children in danger and sowing ethnic violence across the world. We can do better."
Facebook issues will 'haunt a generation,' Senator says
Democratic Sen. Richard Blumenthal, who chairs the Senate Commerce subcommittee on consumer protection, expressed "heartfelt gratitude" to Haugen for "standing up to one of the most powerful, implacable corporate giants in the history of the world."
He added: "The damage to self-interest and self-worth inflicted by Facebook today will haunt a generation."
Antigone Davis, Facebook's global head of safety, was grilled by members of the same Senate subcommittee last week following the Journal report about the impact its apps have on younger users. Davis, who identified herself as a mother and former teacher, pushed back on the idea that the report was a "bombshell" and did not commit to publicly releasing a full research report, noting potential "privacy considerations." She said Facebook is "looking for ways to release more research."
The Journal report, and the renewed pressure from lawmakers in its aftermath, also appeared to force Instagram to rethink its plans to introduce a version of its service for kids under 13. Days before the hearing, Instagram said it would press pause on the project.
"Facebook's actions make clear that we cannot trust it to police itself," Blumenthal said in the statement Sunday. "We must consider stronger oversight, effective protections for children, and tools for parents, among the needed reforms."
National security concerns — and future hearings
During her testimony, Haugen said,"Congress can change the rules Facebook plays by and stop the many harms it is now causing."
Haugen, whose last role at Facebook was as a product manager supporting the company's counter espionage team, was asked by one senator whether Facebook is used by "authoritarian or terrorist-based leaders" around the world. She said such use of the platforms is "definitely" happening, and that Facebook is "very aware" of it.
"My team directly worked on tracking Chinese participation on the platform, surveilling, say, Uyghur populations in places around the world. You could actually find the Chinese based on them doing these kinds of things," Haugen said. "We also saw active participation of, say, the Iran government doing espionage on other state actors."
She went on to call Facebook's "consistent understaffing" of counter-espionage and counter-terrorism teams a "national security issue."
"I have strong national security concerns about how Facebook operates today," Haugen said.
Her comments on national security hinted at what may be next for Congress' inquiry based on the internal document leaks. Haugen said she already has plans to speak with other parts of Congress about those concerns, and Blumenthal suggested that Facebook's impact on national security could be the subject of a future subcommittee hearing with Haugen.

https://www.cnn.com/2021/10/05/tech/facebook-whistleblower-testify/index.html