The Georgia Institute of Technology was awarded a grant from the U.S. Department of Commerce's Economic Development Administration (EDA) as part of its $1 billion Build Back Better Regional Challenge.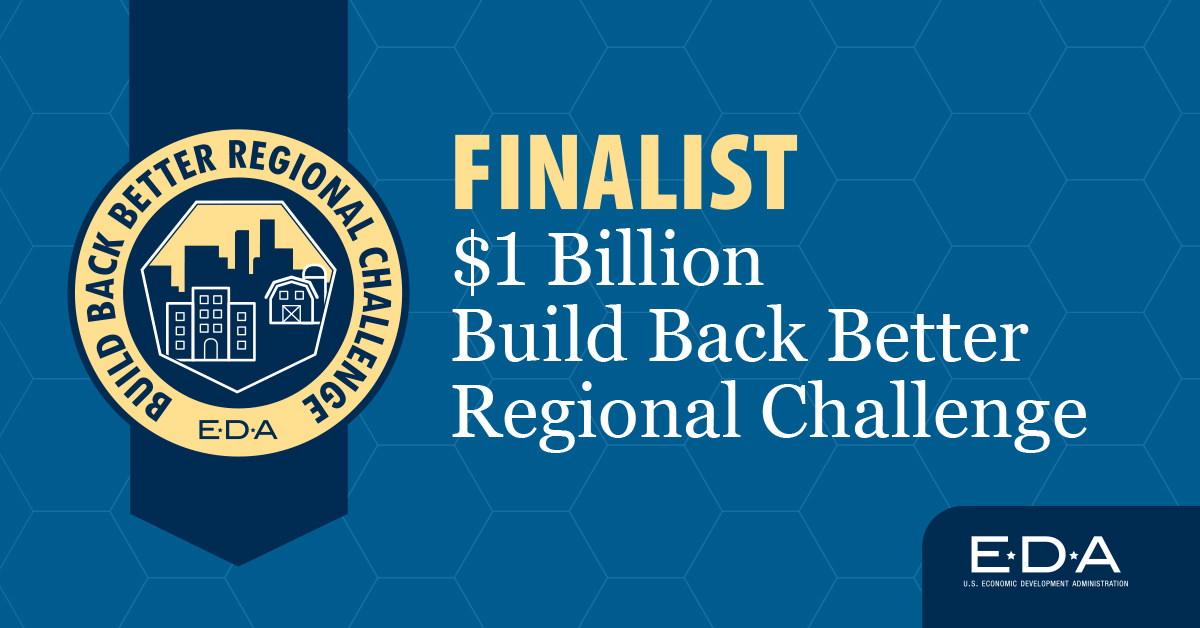 Georgia Tech Awarded Commerce Department Grant to Develop AI Manufacturing Economic Corridor
The Georgia Institute of Technology was awarded a grant from the U.S. Department of Commerce's Economic Development Administration (EDA) as part of its $1 billion Build Back Better Regional Challenge. Georgia Tech is one of 60 entities to be awarded funding to assist communities nationwide in their efforts to accelerate the rebuilding of their economies in the wake of the pandemic.
As a leader in artificial intelligence, manufacturing research, and innovation-led economic development, Georgia Tech will utilize the grant for technical assistance to plan the Georgia Artificial Intelligence Manufacturing Corridor (GA-AIM). Led by Thomas Kurfess and Aaron Stebner in the George W. Woodruff School of Mechanical Engineering and in collaboration with local partners, GA-AIM will fill existing technology gaps, build a technological opportunity framework that includes underrepresented communities and rural Georgia counties, and better secure the state's manufacturing infrastructure.
Georgia Tech's partners in the effort include the Russell Innovation Center for Entrepreneurs, Spelman College, the Technical College System of Georgia, and the Georgia Department of Economic Development.
"We are truly honored to be awarded this grant to implement our vision for manufacturing excellence in Georgia with our partners in artificial intelligence research," said Chaouki T. Abdallah, executive vice president for Research at Georgia Tech. "Alongside these important partners, the grant enables us to collaborate to include diverse backgrounds and perspectives in the process of learning, discovery, and creation, furthering Georgia Tech's mission to expand access."  
Georgia Tech and its partners will pair artificial intelligence and manufacturing research innovation to better secure the manufacturing ecosystem, expand opportunity to distressed and rural communities and underrepresented groups, and support business growth across the state.
"We are thrilled to help communities work together — in coalitions of government, nonprofits, academia, the private sector, and others — to craft ambitious and regionally unique plans to rebuild their communities," said Alejandra Y. Castillo, assistant secretary of commerce for the EDA. "These projects will help revitalize local economies and tackle our biggest challenges related to climate change, manufacturing, supply chains, and more. EDA is proud to ignite these plans and help communities nationwide build back better."
GA-AIM's partners have created a complementary network of resources that focus on each partner organization's expertise and mission.
"We have an opportunity to create meaningful impact at the intersection of AI and manufacturing," said Stebner, who wrote the grant proposal that resulted in the $500,000 grant from EDA.
Kurfess, who serves as the regional economic competitiveness officer for the grant, added, "Bringing together AI and manufacturing will ensure a strong manufacturing base for Georgia that will leverage our well-trained workforce and our strong educational institutions that are participating in this effort. What excites me the most is that AI will augment our workforce, making it more valuable and productive, ensuring job growth for Georgia and the U.S. well into the future."
The GA-AIM effort takes a multifaceted approach to address its core goals:
Georgia Tech
Formation of the AI Manufacturing Pilot Facility: Georgia Tech's Advanced Manufacturing Pilot Facility will be transformed into the AI Manufacturing Pilot Facility. The new facility allows for government pilot trials, cybersecurity games, and workforce training to innovate, transition, and create a workforce for AI manufacturing technologies without exposing the region's supply chains to risk.
Center for AI Commercialization: Two of Georgia Tech's commercialization programs — VentureLab and I-Corps South — will create a center for the commercialization of AI manufacturing technologies into local and regional startups. Those commercialization efforts will occur through a quarterly cohort-based entrepreneurial training program built on the National Science Foundation's I-Corps curriculum. The center will also provide training for instructors to build a sustainable workforce and will secure investment funding for these startups.
AI Manufacturing Community Engagement: The Enterprise Innovation Institute, Georgia Tech's chief economic development arm, will engage in focused outreach and technical assistance to small and mid-sized manufacturers and minority business enterprises through its Georgia Manufacturing Extension Partnership and Georgia Minority Business Development Agency Business Center programs. A third Enterprise Innovation Institute program, the Economic Development Lab, will focus on outreach and engagement in distressed and underserved parts of the state, create workforce development programs and implementation strategies, and attract outside investment.
AI Manufacturing Rural Supply Chain: The Supply Chain and Logistics Institute will study the impact of automation technologies, build automation solutions tailored for rural manufacturers, and create programs that lower the barrier for rural manufacturers' access to use the AI Manufacturing Pilot Facility.
AI InVenture K-12 Experiences: To ensure a technically capable workforce in the coming years, Georgia Tech's InVenture Prize and the Center for Education Integrating Science, Mathematics, and Computing will expand their emphasis to rural and underserved areas of the state by piloting a rural regional event with a region-specific prize. They will also create supplemental lessons centered on AI and data science that will be part of a K-12 InVenture Prize curriculum website.
Spelman College
Virtual Reality for AI Workforce Training Innovation: Spelman's Innovation Lab will develop virtual reality technology for training or retraining the GA-AIM workforce to make workers comfortable with new technologies before deployment in real-world applications.
Russell Innovation Center for Entrepreneurs
LaunchPad AI Innovation Studio: The Russell Innovation Center for Entrepreneurs will create the 5,000-square-foot LaunchPad AI Innovation Studio to provide prototyping and proof of concept development of physical products. Black entrepreneurs will be given access to equipment, training, and mentoring. LaunchPad AI will also be open to AI InVenture teams from Atlanta's K-12 public schools, with special programs designed for startup mentoring and seed funding for K-12 entrepreneurs.
Technical College System of Georgia (TCSG)
AI Manufacturing Technical Workforce Development: As Georgia's technical college coordinating organization, the TCSG will design, develop, and implement curricula at community colleges that include apprenticeships at AI-MPF and virtual reality modules from Spelman. The TCSG will also provide regional entry points for dual enrollment and traditional students to AI manufacturing technical education at certificate and degree levels. Graduates will have exit points that lead directly to careers in the industry or provide for the continuation of education and higher degree attainment through articulation agreements among GA-AIM members.
With this grant, Tech becomes a finalist for significantly more funding to implement projects that support an industry sector and help communities withstand future economic shocks.
"GA-AIM is in strategic alignment with the EDA's funding priorities, including manufacturing, workforce development, equity, and technology-based economic development," said David Bridges, vice president of the Enterprise Innovation Institute at Georgia Tech and co-author of the grant proposal. "With manufacturing employing more than 400,000 people across the state and contributing more than $61 billion in economic activity, it's critical that we leverage the best ideas and programs through our coalition of partners."  
###
About the Georgia Institute of Technology
The Georgia Institute of Technology, or Georgia Tech, is a top 10 public research university developing leaders who advance technology and improve the human condition. The Institute offers business, computing, design, engineering, liberal arts, and sciences degrees. Its nearly 44,000 students, representing 50 states and 149 countries, study at the main campus in Atlanta, at campuses in France and China, and through distance and online learning. As a leading technological university, Georgia Tech is an engine of economic development for Georgia, the Southeast, and the nation, conducting more than $1 billion in research annually for government, industry, and society.
About the U.S. Economic Development Administration
The mission of the U.S. Economic Development Administration (EDA) is to lead the federal economic development agenda by promoting competitiveness and preparing the nation's regions for growth and success in the worldwide economy. An agency within the U.S. Department of Commerce, EDA makes investments in economically distressed communities in order to create jobs for U.S. workers, promote American innovation, and accelerate long-term sustainable economic growth.
Writer: Péralte C. Paul I [email protected] I 404.316.1210
Media contact: Steven Norris | [email protected]| 256.453.5610
http://news.gatech.edu/news/2021/12/13/georgia-tech-awarded-commerce-department-grant-develop-ai-manufacturing-economic