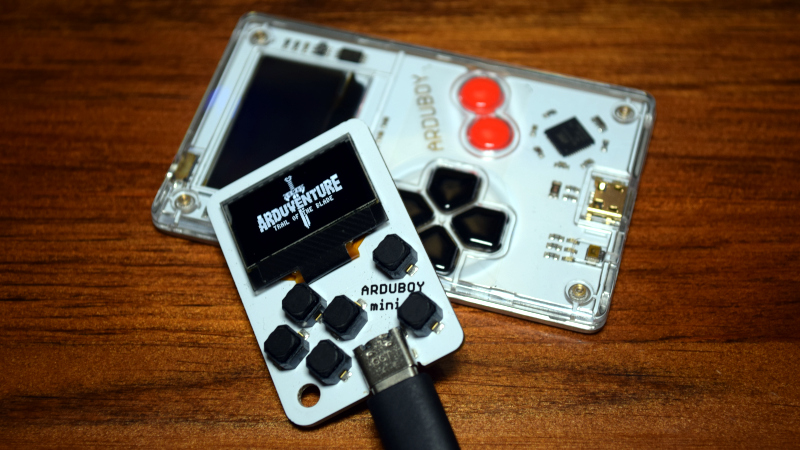 Just before the holidays, we brought you word of the Arduboy Mini — the latest in the line of open source 8-bit handheld gaming systems designed by [Kevin Bates]. He was good enough to send along a prototype version ahead of the system's Kickstarter campaign, and we came away impressed with the possibilities it offered for customization.
Today, we're pleased to tell you that not only did the Arduboy Mini Kickstarter cross the finish line with more than six times its original funding goal, but [Kevin] has made some pretty major changes to the design from the last time it graced these pages. The final Mini offers even more opportunities for modification and expansion, while still keeping the $29 USD price tag which made it so appealing in the first place.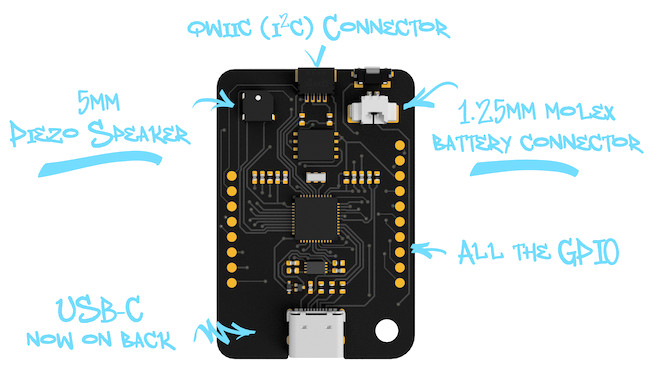 In our review of the prototype Arduboy Mini, one of the diminutive handheld's few downsides was that [Kevin] had decided not to include a speaker or battery. It was an observation we noted several other publications made as the campaign went on, which might have lead to something of a change of heart. For the final design, he ended up adding a 5 mm SMD piezo speaker to the back of the final unit.
Looking to avoid the headaches associated with shipping LiPo pouches, there's still no battery included. But he did add a 1.25 mm Molex connector that's popular with micro drone batteries, so it will be easier to hook one up yourself compared to the prototype's solder pads.
The I2C Qwiic connector he hinted at during the campaign has also made the cut for the final hardware, which will allow the handheld to be easily connected to all sorts of off-the-shelf sensors and hardware. In addition, he's broken all the GPIO pins of the 16 MHz ATmega32U4 microcontroller out to test pads on either side of the system. While we'd still pick the Arduboy FX for pure gaming purposes, these changes make the Arduboy Mini an eminently hackable device that we think will be just as welcome on the work bench as it would be on a park bench.