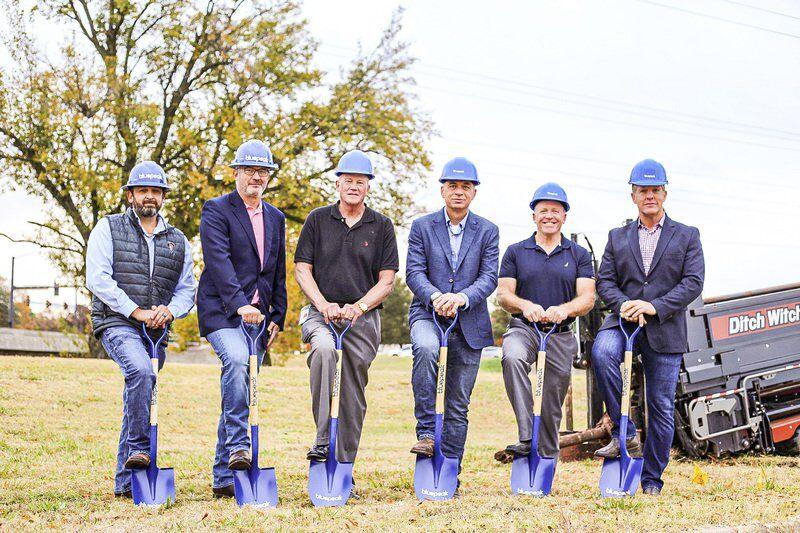 By Michelle Charles
A new internet provider is preparing to invest $25 million in a fiberoptic network its leaders say will make high-speed internet available to all of Stillwater by the end of 2023.
Bluepeak staff was joined Wednesday by representatives from the City of Stillwater for a ground breaking ceremony at Oklahoma State University's Data Center.
"We're literally starting today," Construction Program Manager Michelle Willett said. "It's both underground and aerial construction … It's a 2021-2023 project."
Jim Jackson of HBK Engineering, the company designing the system, told the News Press construction will begin in Southwest Stillwater, working out from 19th Avenue and Country Club Road and filling out that area first because it's easier to reach from the Data Center where Bluepeak operations will be centered.
They will then start working back toward the center of town, working in a couple of areas and starting with buried lines before installing fiber optic lines on the City of Stillwater's electric poles, he said. The company will coordinate its work with other City projects like street improvements but will avoid overwhelming a specific area.
"We're working hand in hand with the Public Works Department to make sure that we take advantage of those opportunities because we will be going up and down every street," Jackson said.
In addition to Stillwater, Bluepeak is moving into smaller cities in Oklahoma like Enid, Perry and Bartlesville that haven't always had full access to high-speed internet. Vice President of Sales MacKenzie Roebuck-Walsh said the company has been doing that in small towns in South Dakota for a long time.
"And now the whole world, certainly the whole nation, is looking at the importance of fiber so it's 'go time,'"she said. "And when we were able to secure funding to grow, we said, 'It's incredibly important for us to grow in the types of communities we already serve. We're going to stay in small town, rural America, where we can be part of the community and really make a difference. We are bringing choice where choice didn't exist … and not only are we bringing choice but our product's a little bit different. It's fiber so it's symmetrical, meaning speeds go up and down the exact same and really great pricing."
Bluepeak is not accessing federal funding for its current expansion, CEO Rich Fish said.
The company, previously operating in South Dakota and Minnesota as Vast Broadband, was acquired by the venture capital firm GI Partners in February.
The new owners are providing several hundred million dollars in expansion capital to fund a multi-year, fiber-based market expansion initiative that will increase the company's footprint for broadband services, according to a presentation made to the Laramie, Wyoming City Council.
Twitter: @mcharlesNP

https://www.stwnewspress.com/news/local_news/new-internet-provider-breaks-ground-on-fiber-network/article_f0a0a2e7-8357-5ba9-90f4-778f33d94bc9.html