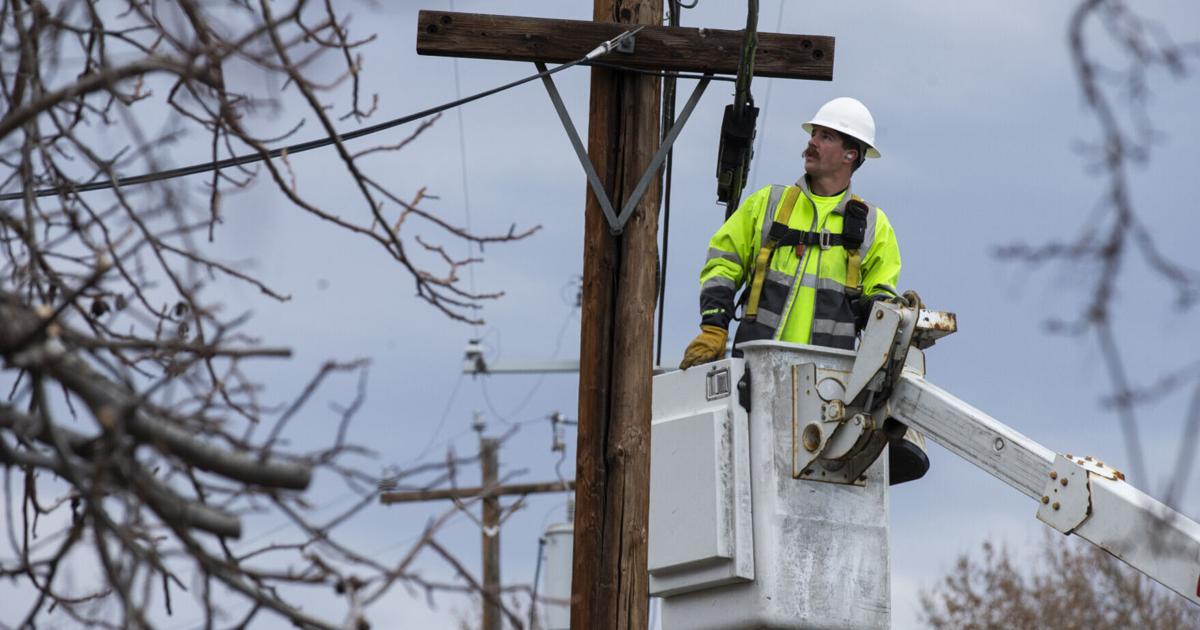 The value of high speed internet is more evident than ever after two years of remote learning, working from home and communicating with distant relatives online due to the COVID-19 pandemic.
Broadband, whether accessed via cable, fiber or a wireless network, is the conduit through which residents receive their streaming services, Zoom calls and online communication. While access to it varies throughout Yakima County, there are numerous options available through local, regional and national providers.
Forbes Mercy, president of Washington Broadband of Yakima, is proud that his company was the first to provide internet service for the Yakima Valley.
"We started as dial-up in 1994 — we introduced Yakima to the internet," Mercy said. "Today we have 37 wireless towers around the Valley, covering an area from Naches to the Wenas, from Tampico to East Moxee, and to Zillah and parts of the (Yakama) Nation in the Lower Valley."
Washington Broadband offers a variety of wireless internet plans, with greater speeds dependent on signal strength and the user's monthly budget.
For example, rural wireless plans start at $39/month for internet data speeds of 1.5 megabits per second, or mbps. As plans reach the $59, $79 or $99 per month range for rural customers, download speeds increase to 10, 15 and 20 mbps, respectively, with upload speeds less than half as fast.
Customers who have access to Washington Broadband's fiber connections can receive data at much greater speeds — up to 100 mbps, 300 mbps and even 1 gigabit for downloads, Mercy said. The fiber network was built out to West Gleed, Naches and Tieton in 2001.
"We continue to build fiber and cable to replace fixed wireless, which continues to get overwhelmed by other companies carelessly interfering on those frequencies," he added. "We now have over 40 miles of working fiber to the home, and cable with speeds up to gigabit. In 2022, we're building over 60 more miles of fiber to the home, further expanding our cable, and moving more wireless customers over to licensed spectrum."
Gigabeam is another Yakima company providing high-speed wireless internet to Yakima and other communities in the Upper Valley, with residential service plans ranging from 10 to 100 mbps download speed. Its service area ranges from the U.S. Highway 12/State Route 410 junction and Pomona on the north to Ahtanum Ridge on the south, and from Tampico to well east of Moxee.
Jason Telles, a 25-year technical veteran of phone and internet services, founded Gigabeam to provide enterprise-grade internet connections to the rural communities in Central Washington, the company's website states.
In September of last year, Kerry Martin and Morgan Collins joined Telles, forming a partnership he said would bring increased quality and performance to the Gigabeam network and allow speeds of up to 100 mbps to be offered in some areas of their service area.
Among the regional companies offering high-speed internet is PocketiNet, with a local office near the Yakima Air Terminal and two other locations in Kennewick and Walla Walla. In the Lower Valley, it offers service in Sunnyside, Grandview and Prosser.
Larger companies such as Spectrum, CenturyLink and Ziply also serve Yakima, Sunnyside and other cities and towns in the Yakima Valley.
Expanding service to rural areas is tougher, as local, state and federal government officials have noted.
"Rural communities with low population densities are never going to pencil out" for internet service providers, Lisa Brown, who directs the state's Department of Commerce, told the Yakima Herald-Republic in August 2020. She described it as "the classic last-mile problem," where the last mile of service is always the most expensive to provide.
Washington Broadband's Mercy is concerned that private companies such as his, which have been providing internet service for nearly three decades, won't be invited or welcome to lend their expertise to the government's solution. He believes the rules set in the infrastructure bill are not written for existing providers to receive any of the funding.
He said most federal money coming to Washington state will flow through various government agencies such as ports and public utility districts, which were given authority to launch their own broadband networks when the Legislature approved, and Gov. Jay Inslee signed, House Bill 1336 last year.
"Unlike the phone system, we were not subsidized by the government," Mercy said. "We paid for it without government funding — they don't own us, they can't tell us how to run our networks, yet we welcome everyone, rich or poor.
"We gave hundreds of people low-cost or free internet during (the COVID pandemic), wrote contracts for below-cost internet for two school districts, and more than doubled our speeds and availability," he added. "Without any help from the government, I put about $1 million into our infrastructure each year, and increase our fiber about 10 miles each year."
https://www.yakimaherald.com/news/local/yakima-valley-broadband-provider-hopes-private-companies-part-of-internet-access-solution/article_9b063e59-57fe-5e2d-a2c3-0874431d803a.html