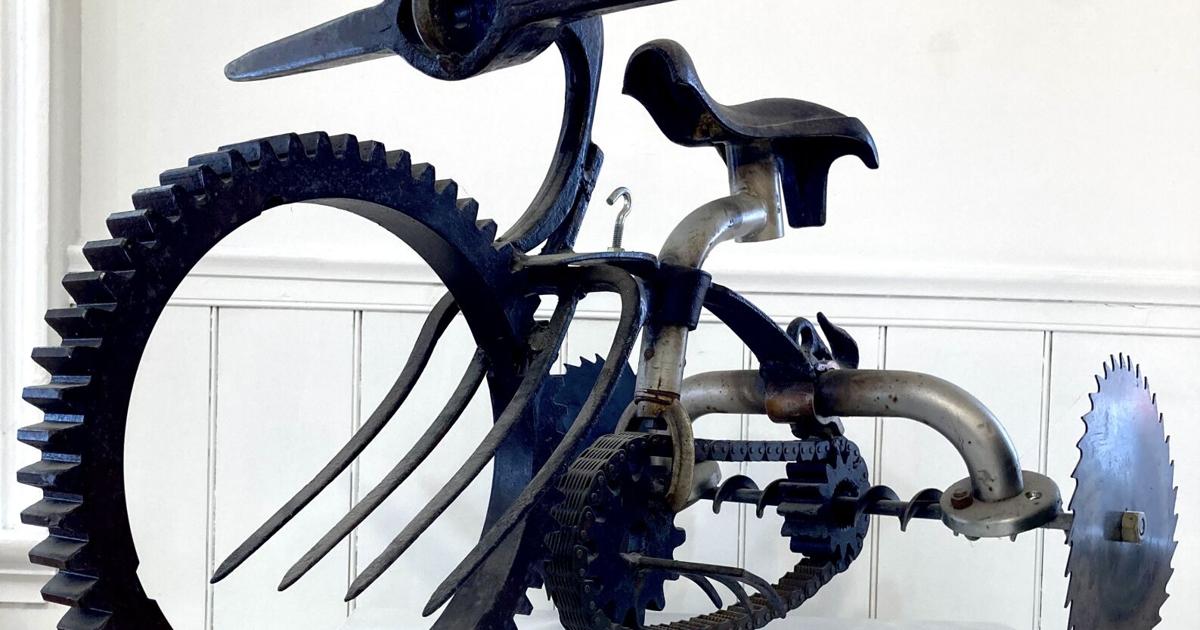 BENNINGTON — Rhonda Ratray remembers fellow artist Tom Longtin bringing her a huge bag of buttons he found while dumpster diving. He knew she was working on a Christmas-themed project, and thought they would be of use.
Longtin, a graphic artist, computer programmer and mathematical sculptor, used his scavenged findings for his own creations, but was also keen on getting useful materials to other people.
"He was incredibly generous not just to me, but to many friends, sharing the wealth of his finds," Ratray said. "He knew I taught art classes and often asked if I needed anything he had in surplus."
The buttons, she recalled, ended up being perfect for her piece, called the Shrine of St. Nick, for the Fitchburg Museum of Art.
"He was like a champion dumpster diver," she said with a smile.
Longtin's resourcefulness, creativity and thoughtfulness are now on display in a retrospective exhibit at North Bennington's Left Bank Gallery, where Ratray is director. The gallery is showing his laser-cut sculptures, a series of mobius and gear forms, as well as torus helix designs. His pieces are in two and three dimensions. "Scrapcycle" is a bicycle-like contraption made of found objects welded together, first spotted by Ratray at a North Bennington Outdoor Sculpture Show. One sculpture resembles a child's board game with math problems. At least one piece moves when plugged in.
Longtin grew up in Bennington and studied mechanical engineering and computer science, focusing on 3D geometric computer graphics programming, according to a provided artist biography. His software was used in creating award-winning animations for the Superbowl and Olympics, and he created magazine and journal covers for "Gear Technology Magazine" and the "Power Transmission Design Trade Journal," the biography states.
He died at his home on Rutter Road in May 2020, following a brief illness, at age 79, according to an obituary.
Before the pandemic, Ratray saw him about once a week while he made his rounds, collecting and dispensing found items. "Here kiddo, see what you can do with this," Ratray remembers Longtin saying as he would hand over a recent loot. She said she never turned down an opportunity to visit his studio to see what he was working on, and previously hosted his work at Left Bank in at least seven shows.
"Tom was always working on a project, or 10," Ratray said.
Ronald Van Orden, of Bennington, a friend to Longtin for around 30 years, looked at one of his late friend's sculptures on the shelf of his home ("It's an amazing thing; I keep trying to think of a use for it other than a piece of art," he said with a smile in his voice) as he recalled attending art and woodworking shows and skiing and snowshoeing with Longtin. He also accompanied him on scavenging expeditions.
"He was unique. I never met anybody like him," Van Orden said. "He had many lives that I didn't know about. You talk to different people, you find he had a different life."
Van Orden said Longtin had a government card that got him into military bases.
"And I asked him how he got that, and he said, 'I'll tell you someday,' but I never got to find out," Van Orden said.
Some of his friend's great dumpster diving finds included nine frozen turkeys thrown out by a store after Thanksgiving and a can full of dimes. He would also restore or repurpose broken objects and parts.
"He would make his own ice skates. He would go to the dump and get bicycles and put them all together," he recalled. "He would repair battery-powered drills; he would get a battery from one and hook it to another one."
Bob Howe, of North Bennington, a former teacher, first met Longtin when the artist was a high school student. They reconnected many decades later when Longtin helped Howe with woodworking projects.
"He was very smart at engineering processes," Howe said. "He was a great help to me, working in my shop."
Martha Stitelman and her partner, Hubey Folsom, formerly of Bennington and now of Newfane, used to accompany Longtin on dump runs, "collecting useful things." They all shared interests in mountain biking, hiking and cross-country skiing.
Stitelman said Longtin was a great neighbor, often supplying her with items for projects, and "there was always something interesting going on at his house."
"Combining his treasure trove of found materials with his computer and mechanical skills, he had a constant flow of active projects," she said. "His intriguing creations combine beauty with mathematical themes."
She described Longtin's personality as "outwardly quiet, but he was always paying attention, had a sharp sense of humor, and was a generous friend."
The Tom Longtin retrospective is on view at Left Bank Gallery, 5 Bank St., North Bennington, through the end of the month. The gallery is open Mondays, Wednesdays and Fridays from 10 a.m. to 2 p.m. and by appointment, set up by emailing Ratray, [email protected].
https://www.reformer.com/arts_and_culture/bennington-artist-programmer-remembered-for-creativity-generosity/article_566bd83e-8f54-11ec-84a9-178a093ac29a.html